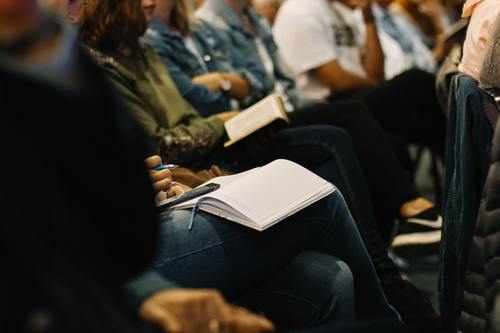 We have many studies that go on throughout the entire week. From Sunday school classes, to women's studies, mens studies and more, we want you to get plugged in with God's Word alongside of other brothers and sisters! Have a question? Contact us below.
- Thursday Morning Young Ladies Study 9:30 AM | Led by Jesse Bolton, jesserobinette12@gmail.com | Beginning Thursday April 22nd on the book of Acts | Held in classroom #1
- Tuesday Morning Women's Study 9:15 AM | Led by Eileen Johnson, maeileenj@aol.com | Beginning February 9th for 7 weeks, studying the life of Elijah | Held in the overflow room
- Wednesday Morning Men & Women's Study 9:00 AM - 11:30 AM | Led by Suan Rohrdanz | Studying the minor prophets.
- Monday Night Men 6:30 PM - 8:00 PM | frohrdanz12@aol.com | Trinity Church Overflow Room
We are starting a new Men's Study on Monday evening, March 22nd at 6:30 PM, entitled "The Essentials of Effective Prayer". We hope to find the keys to an effective prayer life in this compelling study that explores both God's expectations of you and His promises to you when it comes to prayer! We'll be going through a detailed examination of the Lord's Prayer and other examples of Biblical prayers. As we do, we'll discover a model for talking to God! Please come and draw closer to Him during this exciting six week study.
Our books are ordered. Cost is $10.00. If you have any questions, please contact Fred Rohrdanz at 352 - 267-3246.
- Tuesday Morning Bible Study 6:00 AM - 7:00 AM | Led by Alan Mielke | Currently in the book of John | Trinity Church Overflow Room
- Saturday Morning Men's Breakfast & Study 7:30 AM - 9:00 AM | Trinity Church-Overflow Room